Namaskaar – We are pleased to announce our new Executive Committee. We are a very strong team of 14 Maharashtrian men and women. Most of our team are children of previous Maharashtra Mandal Executive Committee Members, Presidents and Board of Trustees. As a result, our 'Team' has a very strong support from Maharashtra Mandal members, and from other organisations here in the UK as well as in India. We all have varied skills, strengths and industry experience which will prove to be beneficial over the coming months and years.

Mrs Shyamal Pitale, President
Mrs Shyamal Pitale, (Jirapure) is the granddaughter of Aajibai Banarse (known as Kahaani Londonchya Aajibai and Puran Puri Ajibai) and the daughter of Mr & Mrs Atmaram Jirapure. 
British born, Shyamal is married to Prasanna Pitale and they have two daughters Sasha and Jema. Shyamal is currently working as a consultant to a Solicitors firm negotiating/drafting Commercial Premises Leases. Over the past 16+ years she worked in Central Government across Whitehall as a Consultant Senior Commercial Manager and IT Budget Manager. She was responsible for tenders and negotiations of IT related contracts which spanned across Whitehall. Shyamal also has experience in Sales in IT Services, where some of her clients were Thames Water, The Prudential, British American Tobacco, BP, Conoco. In the Private Sector she worked for some key organisations, namely Siemens, Accenture, BAE Systems, Schlumberger, Atos Origin, Honda UK, BT, McDermott Engineering.
Shyamal Joined the Executive Committee to follow in her fathers and grandmothers foot steps.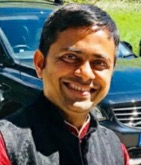 Tejesh Ghag, Vice President
Tejesh Ghag is a software consultant at Mastercard, Canary Wharf and he lives in South Ruislip, London with his wife Purnima Ghag and two little princesses (Anisha and Isheeta). Born and brought up in Mumbai, Parel, he is graduated in Engineering in Information Technology from Mumbai University. He have been associated with the Mandal from 2009 as part of Yuva wing. As, he have been closely connected with the Mandal he met his wife here, and they also got married here at MML.
He choose to join the Executive Committee as he would like to contribute and work towards the Mandal's constitution and vision, to help the Mandal grow by connecting people, to be involved in charity work, to support our Marathi community, and to enjoy, learn and educate more about our own proud Marathi language, tradition and overall Indian culture.
Jai Hind, Jai Maharashtra!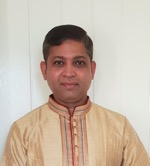 Vinod Devkar, Secretary
Vinod is currently working as a Senior Software Analyst at Mastercard. Vinod is married to Rupali and they have twins Om and Ayushi. Vinod is qualified as engineer with B.Tech, PGDCA from VJTI, SGGSCE&T and CMC. Rupali is a qualified engineer in B.E. EXTC from COEP and has work experience with Hewlett Packard. Vinod has past 18+ years of work experience in Information Technology industry with key organisations such as CMC, Hewlett Packard, SunGard and Dell.
Vinod is an active MML member since 2008-09 and he is proud to be part of such a reputed Maharashtrian organisation. Vinod is a parent ambassador and provides support through Parents Helping Parents initiative with VICTA. Vinod also works with other charities some of which are specific to special needs.
Vinod joined the Executive Committee to encourage young generation and support our Indian community.
Having participated for numerous years in the Maharashtra Mandal Ganeshotsav, particularly in areas like arranging Pooja, Aarti, Lezim, Dhol and assisting Kanegaonkar Kaka/ Kaku and Kale Kaka/ Kaku Team.
Vinod is keen to experience different outdoor activities such as Abseiling, High ropes, Rafting, Gliding, etc.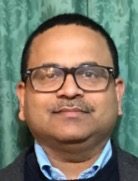 Santosh Deshpande, Joint Treasurer
Santosh is a Senior Project Manager with Siemens. He qualified as a Chemical Engineer from UDCT Mumbai, and has over 28 years' experience in Engineering, Project Management and Leadership. His wife Supriya Deshpande is also an engineer who works full-time as a Senior Lead. Their daughter Sana is 12 years old.
Santosh and Supriya run a social initiative called "GaMaBhaNa" based near Leicester. They give free Marathi lessons for Children in the East Midlands, run a free Marathi Library of over 300 books, host special Marathi programs and donate any money generated to orphanages in India. Over the last two years, they have hosted Shridharii Phadke and Pandit Shounak Abhisheki's events throughout the U.K.
Santosh recently received the "Chanakya" award (OMPEG U.K.) for GaMaBhaNa's contribution to society. Both Santosh and Supriya are also active STEM Ambassadors.
Santosh joined the MML EC because of my love for Marathi-origin British people, mainly children and I would like to contribute more to the community.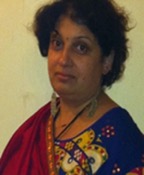 Mrs Leena Parkar, Public Relations Officer
Namaskar members! My father was the late Raosaheb Bhonsle (a Ranji trophy player and professional cricketer). My Mother was the Late Leela Raosaheb Bhonsle (Masurkar), a housewife.
I currently do locum work. I have work experience in teaching, housing, advocacy, customer services, and have helped victims of domestic violence. I possess a BSc in Community Development and Leadership and I am a trustee of the Parent Engagement Panel Enfield.
I am married to Santosh Parkar who was one of the co conveners for the HCI Event which took place on the 10th May 2019. Santosh was also one of the main organisers for Bhartiy Bhasha Sangh classes which took place at MML two years ago and a director of the website Event Premi.
I have two children. My son Mahesh has just completed his BA in Ancient History at Kings College London. He is a keen musician in Indian and Western Music and part of the Grand Union Youth Orchestra. My daughter Radhika is in Year 9 at secondary school and is a keen artist who enjoys cooking especially baking cakes. She also plays the Piano, Violin the harmonium and is also a member of the Grand Union Youth Orchestra.
I enjoy Zumba, swimming and travelling and socialising.
I would like to give MML my ideas and expertise to move forward and create a platform for the next generation so that they can become more involved.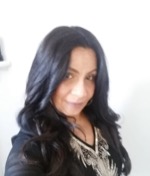 Ms Shraddha Mantri, Executive Committee member
I work full time as an Executive Assistant to a Director at
Public Health England (PHE). I have been with PHE and its predecessor organisation for 15 years and have experience in business support for areas of Business Development and Operations. I have recently attained Project Management qualifications.
I have several hobbies, but the main ones that keep me busy are keeping fit through dance/fitness (I also trained as a Zumba instructor) yoga, the gym, going to the theatre/music concerts, travelling abroad, supporting Liverpool football club, reading and generally hanging out with my friends!
I have happy memories of attending many MML events thanks to my parents Arun Mantri and the late Neelon Mantri. Both were key participants in acting in plays and taking part in many other events. My father continues to help MML. Many of the good friends I have made, (who are still my good friends today) are a direct result of growing up in an MML environment. Some are now also fellow EC members. I am keen to keep my generation's engagement with our culture and connection with each other going. Our parents and grandparents created such a sound foundation that I hope we continue to enjoy as a community together with building something meaningful and relevant for our children to be part of and take forward.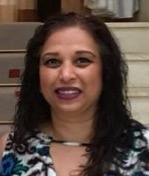 Mrs Anita Pires, Executive Committee Member
I am married to Sebastian Pires and we have three children, Aanya, Samuel and Maya. My late parents were Mrs Tara Mankame & Mr Ramakant Mankame and my brother is Mr Rajesh Mankame.
Rajesh and I were born in the UK and lived in Dadar, Mumbai for 10 wonderful years. We returned to London in 1984 to re-settle.
I have worked for Camelot (i.e. The National Lottery) since 2007, as a Customer Service Telephone Agent and am a part-time childminder, providing local school pickups and drop-offs.
We do a lot together as a family. We enjoy walking, cycling, and travelling, love food and cooking, and enjoy dancing, Bollywood movies and most genres of music.
I am certainly privileged to be a Maharashtrian and speak and read the language, so I hope to get involved in this community with friends (whom most I call family), and in which I would have participated in the past with my parents.
As part of the new MML executive team I hope to encourage the next generation of children to attend and enjoy our events and celebrations.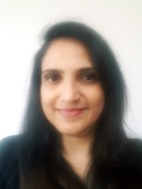 Neeta Gulhane, Executive Committee member
I am Neeta Gulhane, the daughter of Meera Prabhu and the late Premanand Prabhu.
I am a Specialist Pharmaceutical Adviser and Clinical Pharmacist and have worked for over 15 years in the NHS. I specialise in the care of the elderly and have also worked in the hospital sector and primary care in various roles.
Having completed my Diploma in Clinical Pharmaceutical Sciences, I have worked my way up in the clinical sector. I have mentored many pharmacists and other clinical professionals.
I like to be of help to various people or organisations to promote music, culture and arts and have volunteered my time on various occasions to conduct small activities like Antakshari and workshops.
Music is a passion, as is cooking, travelling, spending time with family and friends.
I would like to see MML being part of wider Maharashtrian and Indian community, encompassing all that Marathi people and culture must provide for the betterment of society.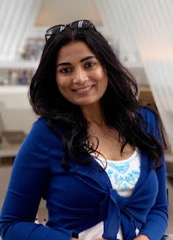 Rashmi Diwadkar (Joint PRO)
I am Rashmi Diwadkar, married to Amit Diwadkar and a proud mother of one.
I work as a IT Sales Professional in CMS, Cx, AI and ML area in central London. I help large enterprises to transform digitally and provide them with seamless digital customer experience with cutting edge technologies.
Apart from my professional career in IT, I am a Bollywood Dancer, choreographer and an anchor. I run my Bollywood Dancing Classes on Sundays from Milton Keynes. Dancing is my passion, choreography and modelling is my hobby and I enjoy anchoring. I have worked with Milton Keynes Council for few years on their projects related to dancing (contemporary and Bollywood) and have been involved with MMMK – Marathi Mandal MK since 2006. Earlier this year I was integral part of IDMK to lead Marathi Community. I have anchored many big events including MKHA (MK Hindu association). I was titled as "Mrs. MK Diva" in one of the Beauty Pageants in 2017. I am also involved with some charity organisations on different projects to raise money for social well-being.
I consider myself one of the lucky ones as I learnt in Marathi medium school, I can write, read and speak Marathi well. I am social and love meeting different people from various different backgrounds.
I joined MML Executive Committee as I strongly believe I will add great value to MML, provide support to our community and to next gen with my talent.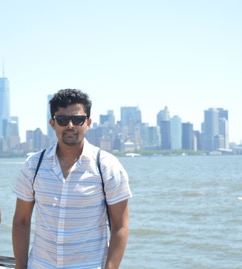 Amit Nikam
My name is Amit Nikam and I am a software professional at Cognizant Technology Solutions, London. Born and brought up in MP and Chattisgarh but started my career in Mumbai, Pune and now working in London. I completed my engineering with Information Technology and DAC from ACTS, Pune. I love to play and watch sports. I have been associated with the Mandal from 2019. I am closely connected with few members of London and I feel Mandal as my Family where I work , enjoy, serve and get blessed by some elder and respected members. I considered myself lucky to be a part of Mandal.
I chose to join the Executive Committee as I would like to contribute and work towards the Mandal's constitution, to help the Mandal grow and connecting people, to be involved in charity work, to support our community, and to enjoy, learn and educate more about our own proud Marathi language, tradition and culture.
Jai Hind, Jai Maharashtra!