स्वागतम / Welcome to Maharashtra Mandal London
We are a social, non-political, community-driven organisation for all Maharashtrians across United Kingdom. We are entirely funded by individual donations and we'd appreciate your support if you can.
Maharashtra Mandal London invites you to join us in a celebration of Chhatrapati Shivaji Maharaj's 392nd birth anniversary, where we are looking back at the life of this Great Warrior and Emperor.
The program includes kids narrating elements of Shivaji Maharaj's incredible life; starting with his birth, explaining who he was, what he accomplished and his conquests, including how he carved out and create a kingdom for Maharashtrians and established self-rule – Swarajya.
Other aspects of the program are a spectacle of songs, dances and other interests, including Dhol Tasha performance, beautiful Powada, a Gondhal, a "killa" Exhibition by enthusiastic kids and a 500 word Essay Writing Competition on Chhatrapati Shivaji Maharaj's Life.
This will most definitely be great entertainment for kids and Adults of all ages…you won't want to miss it; and it would be a wonderful treat for the participating kids to perform to a full-house audience.
Date: 12th March 2022 – 3:00 pm to 6:00 pm followed by dinner
Tickets: £10 including Dinner – Free for kids under 10 yrs (All attendees including participants 10 yrs and over must buy a ticket)
Venue: Maharashtra Mandal London, 306 Dollis Hill Lane, London NW2 6HH
Book your tickets via the following link https://webcollect.org.uk/mml/event/shivcharitra
"Killa" Exhibition
Kids are to prepare their Killa models at home. Then on 12th March, they are to arrive early (from 1 pm onwards) to build their models at the Mandal. Use as many creative ideas as you can to make your model distinctive. You may use card, air dry clay, paper-mache, plastic bottles, paint, colouring pencils, crayons, felt-tips, and any other appropriate materials. Please do not use glass, tiles, sand, wet clay or any other unsafe or messy products.
Upon arrival at the mandal you will be allocated a table number for building and exhibiting your model. The model must be fully built by 3 pm. You are responsible for looking after your model whilst at the mandal.
For registration and queries please contact Minakshi Dudhe:
Email: [email protected] Phone: 07440 110935.
Please view the attached poster for details.
Essay Competition
An essay should be written on aspects of Chhatrapati Shivaji Maharaj's life, in no more than 500 words, written in English or Marathi. Participants must be in the UK and 16 years or below.
Read about Shivaji Maharaj and then chose what you want to write. Imagine what life would have been like during the 1600s. What would their clothes and armour be made of? How did the spy networks operate? How did Shivaji escape from Agra?
Entries to be emailed to: [email protected] in PDF or MS Word format, by 8th March 2022.
For queries please contact :
Rahul Rasal 07762378450 wa.me/447762378450
Kapil Bhatt 07438366643 wa.me/447438366643
[email protected] or [email protected]
Please view the attached poster for details and Competition Rules including Prize details
We are certain all the essays are going to be a treat for us to read – Good Luck to all the kids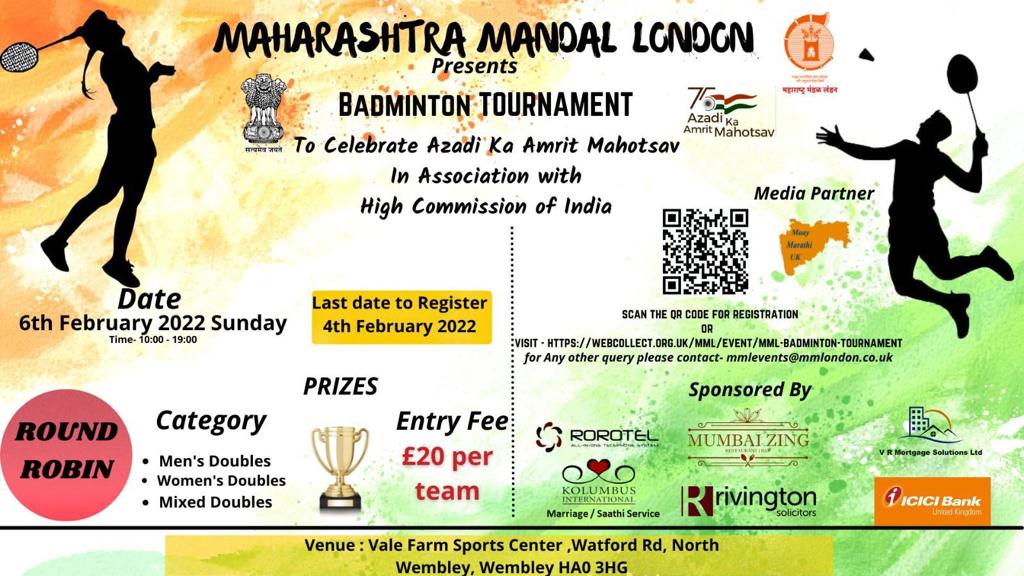 Badminton Tournament
Sunday 6th February 2022, Maharashtra Mandal London along with various other key Mandal's collaboratively hosted a highly spirited Badminton Tournament as a contribution toward Azadi Ka Amrit Mahotsav.
The tournament was held at Vale Farm Sports Centre in Wembley and has included representation from the High Commission of India, London. Each duo has played at least 3 matches.
Check out the winners list and photos via:
New Member Registration
Join us, and become a part of the history of selfless volunteers for one of the oldest Marathi organisation outside India and in the UK. Becoming a member is easy, click below to become aware of all membership plans and register online.
(Please note that MML reserves the right to reject or terminate a membership application for anyone who violates the MML code of conduct and member policy.)
Advertise with us
Advertise your business, products or services on our website. We get a healthy volume of visitors every day on this website, which will help improve your visibility and potential outreach. During festive seasons, our advertisers can gain immense benefit by placing your ads in prime positions.