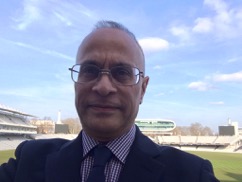 Anand Gadre, MML Finance Trustee
Anand Gadre is a Cost and Management Accountant and has worked with Citibank, Deutsche Bank and UBS before retiring 3 years ago. His interests are Cricket, Bridge and learning languages and baking cakes. Miss Nina Joshi, MML Building Trustee
Nina Joshi is a second-generation Maharashtrian born in the UK. Her family have been actively involved in Maharashtra Mandal since the 1950s & 1960s with her parents, Vasant & Vandana Joshi both holding several positions within the EC Committee including President and Secretary respectively. Her father has also held the position of Trustee. Her brother Ashish has also served on the EC Committee. Since the days of St Michaels Hall, Golders Green, Nina has been involved in Maharashtra Mandal through Marathi dance performances and her roles in various Marathi Nataks. She now takes a role on the Board of Trustee as of 1st April 2019.
Nina is a qualified solicitor and is the co-founder and Managing Director of the largest Civil Legal Aid practice in England & Wales. Though her firm also has an established private practice, assisting the most vulnerable in society is what has motivated her in her career.
Nina hopes to bring back the second generation to Maharashtra Mandal and in doing so seeks to encourage the third-generation involvement thus securing Maharashtra Mandal's future.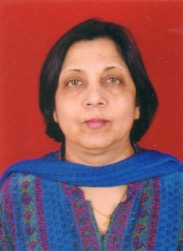 Mrs Manik Bapat, MML Trustee of Fundraising
I have been married to my husband of nearly 40 years Ram (who has also served as a Treasurer on the MML Executive Committee) and we have two daughters, Smita and Trupti and one grandson, Rohan.
Before retiring in 2014, I worked in health and social care for 40 years, 23 of these at the London Borough of Barnet, initially in my role as an Occupational Therapist and then as Occupational Therapy & Sensory Impairment Manager for 13 years. I also served on the College of Occupational Therapists R&D Board and have worked on several change projects, including with the Department of Health.
Outside of work, I have previously served as a Secretary on the MML Executive Committee and was a school governor for several years and a member of the PTA at daughters' school. I enjoy travelling, reading and spending time with my grandson.
My main role as an MML Trustee is fundraising and I am looking forward to exploring and creating new fundraising opportunities for MML and working in collaboration with the BOT and the Executive Committee.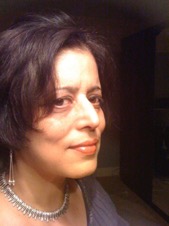 Mrs Prerana Phadnis, MML Trustee
Prerana is married to Sunil Phadnis and she is the daughter of late Mr D R Pendse, Chief Economic Adviser to the Tata Group and Mrs Jyotsna Pendse of the 'Waman Hari Pethe' Jewellers family in Mumbai, She has two sons, Joideep and Satyajeet both doctors and daughters in laws Helen and Kate, Prerana studied Architecture and Industrial Design.
Prerana has been a Business advisor, mentor & coach to SME's. She has also been nominate "Best Business Advisor". She has worked for Business Link, UKTI and British Chamber of Commerce to develop business in India for British companies. She established Prefix Associates LLP, a consultancy business to advise UK based SME's in 2003.
In 2017 Prerana pursued her passion/interest in Public Art, photography and travel, She has been exploring how Mosaic can be used as an art form to convey concepts and stories. She is working on a book which conveys Motivational messages through the use of photography & mosaic and is currently a Trustee at The London School of Mosaic.
Both Prerana and her husband have taken active part in MML activities including acting in Marathi plays and participation in Ganesh Utsav.