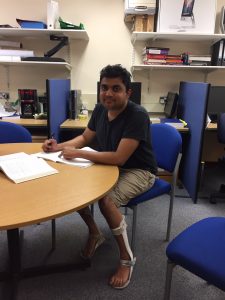 Prasanna's devastating experiences tackling multiple chronic medical conditions and losing his father due to inefficient healthcare services have made him dedicate his life to improve healthcare delivery. Prasanna has a clear vision, insatiable drive, and inherent motivation to learn and promote improvement in the delivery of healthcare services by leveraging data science and machine learning to reduce waiting times and recognize individuals who are at risk for serious health problems to improve our ability to anticipate and treat illnesses. Prasanna has recently been accepted for his postgraduate studies at the London Business School, and I'd like to encourage you to help raise funds for his education to enable him to pursue his passion.
Prasanna is suffering from Charcot-Marie-Tooth (CMT) disease (a motor and sensory neuropathy disease whereby the peripheral nerves are found outside the main central nervous system – Brain & Spinal Cord. These nerves control muscles and relay sensory information from our limbs to our brain). He has Obsessive-Compulsive Disorder (a chronic mental health condition whereby he performs repetitive tasks/actions), and he survived a stroke at the age of 20, in which he temporarily lost speech and swallowing abilities. Prasanna wears braces on both his legs and his ability to walk will continue to deteriorate as a result of the CMT disease. Considering the fact that he has limited time, he wants to invest all of his effort and energy to improve the lives of others.
He wants to make the most of his time to ensure that people are getting early diagnoses and effective treatment rapidly; he doesn't want children to lose a parent at a very young age as he did, for illnesses that are remedial. The personal experiences of tackling multiple medical conditions and his research work on the brain and behavioral patterns in Autism spectrum disorder have endowed him with a deep understanding of the needs and challenges inherent in certain areas of healthcare services, and how data science can devise ways to effectively tackle them. Prasanna was born in a village where there were no schools. With his hard work and dedication, he has made it to the London Business School (LBS), one of the best-known business schools. LBS's Masters in Analytics and Management programme is an excellent platform that will set him up to pursue improvement and efficiency of healthcare services. The study at the intersection of data science, machine learning, and business management will enable him to impact healthcare delivery by providing data-driven solutions to hospitals, government health agencies, and public health initiatives.
After his undergraduate degree from IIT Gandhinagar, one of the prestigious institutes in India, the most important step towards his ambition is his postgraduate course at LBS. The total estimated cost to fund his one-year postgraduate studies is £51,200 (Tuition £33,500+ Accommodation/Food/Travel/Books £17,700). LBS have selected him for a prestigious merit award of £10,000 considering his academic and professional achievements. In addition, he has been able to raise £8,450 so far; however, he still needs to raise £32,750 by mid-August 2019 to be able to fund his education. As there's a possibility that some years down the line Prasanna loses his ability to walk, he might not be able to work effectively and earn sufficiently. Hence, it may be difficult for him to repay the loan. Also, his mother/extended family cannot afford his educational finances. Consequently, he pleads for a financial contribution of any amount to help him to achieve his goal of helping others.
Together, we can help Prasanna to achieve his goals. If you believe in him, his vision, his cause, and his strengths, please give him a helping hand and become part of his journey.
Prasanna's Offer Letter: Click here
Prasanna's Merit Scholarship Award Letter: Click here
Prasanna's LinkedIn: https://www.linkedin.com/in/prasannajeet-mane/
*** During checkout, please select Prasannajeet Mane as "Purpose" before payment.